Nuclear Qualified Solenoid and Air-Operated Valve Solutions
Automatic Valve Corp. has been providing pneumatic fluid power solutions since 1945 and nuclear pneumatic solutions since 1970. In 2017, Automatic Valve Corp. divested itself of its industrial business lines to take that experience and focus solely on our Automatic Valve Nuclear customers.
Why Choose AVN?
The foundation of Automatic Valve Nuclear is our "Customer First" attitude grounded in solid engineering and an unwavering commitment to quality.
AVN quality assurance systems meet the requirements of 10CFR50B, NQA-1, ANSI N45.2 and we accept responsibility for reportability under 10CFR21.
Safety Related products are qualified for harsh environmental conditions and operation during a LOCA/MSLB/HELB event.
Safety related products are environmentally and seismically qualified to IEEE Standards 323, 344, and 382.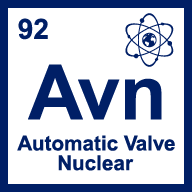 The Only Alternative
Twice the qualified life. Half the price.
Life
45 years at 40°C (104°F)
28 years at 55°C (131°F)
Radiation
1.48E8 rad-air ƴ
Cycles
42,000
Seismic
Aging @ 0.75g from 5-100-5Hz
OBE @ 7.8g from 2-64-2Hz
SSE @ 11.5g from 2-64Hz